Largest Selection of Outboard Boat Engine Parts & Impellers & Spares Available Online
Anglesey Marine Supplies....Online suppliers of outboard waterpump impellers. We supply all makes of outboard impellors..Tohatsu, Honda, Jabsco, Suzuki, Mercury, Johnson, Evinrude, Yamaha and Mariner..We stock them all. Recently added boat outboard shear pins, outboard transom toggle clamps, outboard propellor shear pins and outboard telescopic tiller arm extensions.Replacement outboard skegs for outboards to 140hp plus v6 mercs and sterndrives, Anglesey Marine Supplies For All Outboard Spares.
Check out our Huge Range of Outboard Impellers

Notice: Most outboard motor manufacturers recommend that you change your impeller once a year.
Many people do this as a part of their annual spring maintenance or winterizing. This is a very inexpensive part that can help keep you engine working properly. If the outboard water pump impeller stops working and you don't notice really soon you might find yourself shopping for a new outboard. Avoid that happening for a very small cost.
Boat Outboard Propeller Shear Pins from Anglesey Marine Supplies
Anglesey Marine Supplies now supply a vast range of outboard propeller shear pins for virtually every outboard engine in use. Please use from the selection below. If you cannot find the type you are looking for please contact us for details.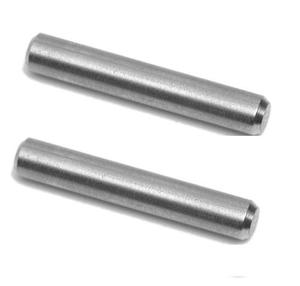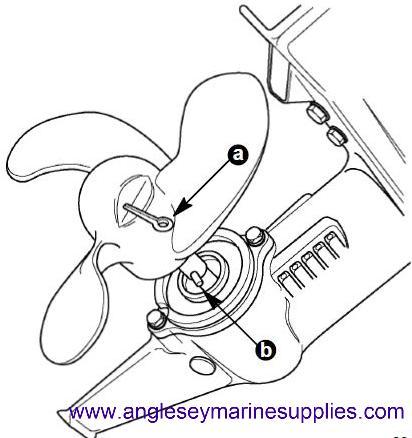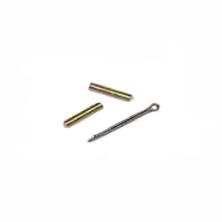 All Boat Outboard Shear Pins From Only £1.99
Outboard Engine Spares From Anglesey Marine Supplies
Boat Engine Outboard NGK Spark Plugs
Anglesey Marine Supplies have recently introduced a full range of NGK spark plugs for outboard engines, inboard engines and pwc jet skis.
If unsure of type you require please click on the spark plug picture on the left to be directed to the NGK partfinder catalogue.
Code Numbers- A6, B5HS, BR5HS, B6S, B6HS, B6HS-10, BR6HS, BR6HS-10, BR6ES, B7S.
We supply the following OEM part numbers
OEM 19210-ZV4-651,OEM 19210-851-A01,OEM 19210-ZVO13,OEM 19210-ZV7003,OEM 19210-ZV5-003,OEM 19210-ZW1-B02,OEM 19210-ZW1-BO2,OEM 18838-0001(1312)103T,OEM 920-0001(1933)106GT,OEM 836-0001(1932)105GT,OEM 673-0001(1309)116GX,OEM 1210-0001(1934)107GT,OEM 6303-0003(1349)138,OEM 47-89980 OR 68988,OEM 47-89981 OR 65957,OEM 47-16154,OEM 47-42038,OEM 47-85089-3,OEM 47-89982 OR 65958,OEM 47-89983 OR 20268 OR 65959,OEM 47-89984,OEM 47-43026-T2,OEM 277181, 434424,OEM 387361,OEM 389576,OEM 386084,OEM 388702,OEM 378891,OEM 378891,OEM 378891,OEM 395289,50HP OEM 432941,OEM 438592,OEM 437080,OEM 389642,OEM 435821,OEM 385072,OEM 646-44352-01,OEM 6EO-44352-00-00,OEM 662-44352-01-00,OEM 6G1-44352-00-00,OEM 682-44352-01-00,OEM 6L2-44352-00-00,OEM 689-44352-02-00,OEM 6H4-44352-02-00,OEM 6F5-44352-00-00,OEM 697-44352-00-00,OEM 688-44352-03-00,OEM 688-44352-03-00,OEM 67F-44352-00-00.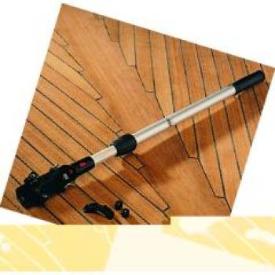 Outboard Engine Telescopic Tiller Arm Extension
Our telescopic tiller arm extension arms are ideal for giving you that extra bit of leverage and also enable steering of your boat from a more central position. Manufactured from anodised aluminium for seawater proteciton. Has a fully adjustable tiller grip. Available in four different sizes. Please use drop bar menu for choice.
Prices from only £19.99 plus postage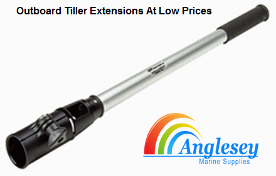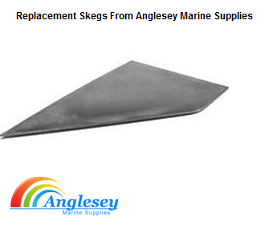 Outboard Leg Replacement Skeg
Anglesey Marine Supplies..now supplying replacement skegs for outboard legs. Welds on to the lower unit to replace skegs damages due to boat grounding or damage from rocks. Will restore outboard performance and looks. Three different sizes available, please use drop bar menu for choice.
All replacement skegs only £29.99 plus postage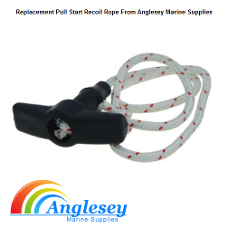 Outboard Pull Start Recoil Rope + Handle
A replacement pull cord and handle for outboard boat engine recoil repairs. Fits majority of boat engine outboard pull starts.
Currently only £11.99 plus postage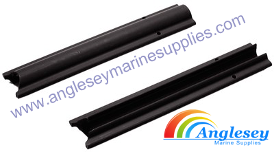 Quicksilver Trailering Clips
Quicksilver trailering clips to support drive in the tilt up position while trailering. Fits MC-1, R, MR, Alpha & Bravo drives. Is Quicksilver branded and sold in pairs.
Available for only £27.99 plus postage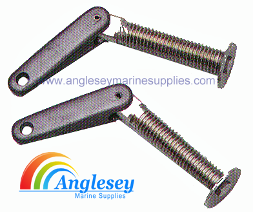 Boat Engine Outboard Transom Clamps
OMC, Yamaha and Mercury toggle clamps with threaded bar and cup. Please use drop bar menu for choice. Price is per pair.
Available for only £49.99 plus postage