Full Set Of Boat Trailer Rollers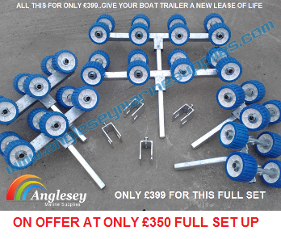 A full complete set of boat trailer rollers to transform even the largest trailers to rollers. Comprising of a total of 36 nylon wobble rollers with non marking polyurethane tyres for life long use, fitted onto fully galvanized boat trailer roller spindles and carriages. Now comes with universal brackets and u bolts that will fit all boat trailers. Larger carriages are fitted near to the boat stern and smaller ones near the boats bow. To save work these boat trailer roller carriages can be fitted straight onto the existing stems on your boat trailer. Stems are 30mm x 30mm box section, Boat trailer roller carriages are 40mm x 40mm box section.
CLICK ON PICTURE FOR MORE INFORMATION
Stand Up Paddle Boards Low Price


New for 2016 our inflatable sup stand up paddle board, 3.3 metres in length. 6" thickness and 30" in width for excellent stability. Suitable for all person heights and weights. Flat and solid stable deck inflated to 15psi gives firmness and good stability. Manufactured from double stitched pvc laminates. Comes supplied with removable tri fins, free carry bag, free handpump with pressure gauge, free paddle and free kayak seat which fixes to stainless steel d rings. Also supplied with a free repair kit.
Only £399 free delivery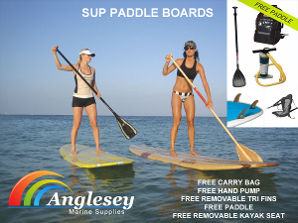 CLICK ON PICTURE FOR MORE INFORMATION
Anglesey Marine Supplies, Online chandelry supplies and goods. Manufacturers of dinghy launching trolleys, Outboard brackets and Boat trailer rollers and bunk to rollers conversion kits. Boat seats all in stock, Large range of boat fenders. Outboard engine brackets manufactured along with boat trailer rollers and conversion kits.
We are the most comprehensive chandeliers on the internet with over 4000 lines in stock. Everything on one website from boat steering cables, bimini sun covers and canopys, outboard engine brackets, spares and fuel lines and outboard fuel connectors.
All the boat parts and stuff you will ever need for your Boat, Pwc, Jetski, Powerboat etc. All items also stocked for the Rowing, sailing, wakeboard and waterski enthusiast.
We are also leading manufacturers of Dinghy Launching Trolleys, Boat Trailer Rollers and Bunk Trailer Conversion Kits and Boat Roller Carriage Kits. BUY DINGHY LAUNCHING TROLLEYS DIRECT FROM THE MANUFACTURER. this year we launched our folding dinghy launching trolley fitted with a rear webbing strap to carry laser 1 dinghies.
Boat Seats, Boat Seat And Table Pedestals, Outboard Engine and Jetski Repair Workshop Manuals And Outboard Engine Paints, Ultraflex and Teleflex Boat Steering Cables, Boat Steering Wheels, Helms also Outboard Control Cables and Boxes. Trailer Components Parts and Spares are also available at the right price including Boat Trailer Rollers and Rubbers, Trailer Wheels And Tyres, Trailer Suspension Units, Trailer Lights, Boat Trailer Winches, Jockey Wheels etc. Renewable Energy products also available, Boat Wind Turbines, Boat Solar Panels etc to keep those Boat Leisure Batteries in topped up condition. We also stock Dinghy Launching Trolleys, Boat And Dinghy Launching Wheels and Carts for Boats, Inflatables, Kayaks and Canoes New for 2011/2012. Anglesey Marine Supplies now supply a range of Titanium Wetsuits For Adults And Children at bargain prices. Large choice of boat lights and boat navigation lights. Boat fuel tanks and boat fuel tank fittings also in stock. Competitively priced outboard brackets and outboard trolleys.Rule bilge pumps and boat bilge pumps and hoses, fittings etc supplied. Waterski, Wakeboard and Kneeboards in stock at low prices.
We now also supply direct Europa Sports Inflatables. Quality range of outboard covers and boat covers and jet ski covers for all jetskis in a range of colours.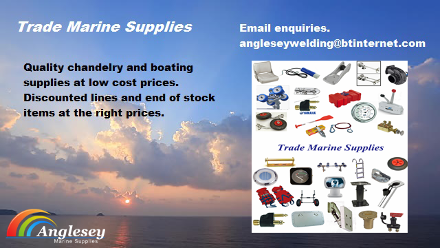 Boat Parts uk-Boat Stuff-Boat Supplies-Boat Spares-Chandelry
Please also checkout our additional website Trade Marine Supplies for end of line quality boat parts in the UK. Full of boat stuff for all needs. All boat supplies on this site are free delivery. Packed with boat spares. If however you do not find what you are looking for you will on our main site. Please also browse through our catalogue by clicking the link at the top left of this page. Full of Boat parts and boat supplies uk. Anglesey Marine Supplies for all your boat spares. Quality boat chandelry direct from Anglesey to Worldwide locations.
Please click on the picture on the left to be redirected-safe link