Full Range of Auxiliary Outboard Engine Brackets
available from Anglesey Marine Supplies
Galvanised Outboard Auxiliary Mounting Bracket
Boat back up outboard engine mounting bracket, manufactured using galvanised box section and pre-drilled with 4 holes for fixing to transom.
40mm thickness laminated marine plywood outboard mounting pad, yacht varnished for maximum protection against the elements. Fastened on with stainless steel coach bolts.
Cost effective only £59.99 plus postage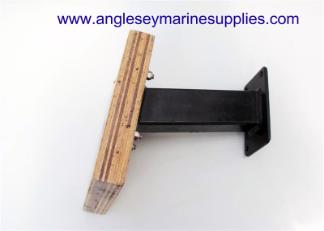 Standard Fixed Auxilliary Outboard Bracket
Standard fixed auxilliary outboard engine motor bracket. Salt water resistant coated bracket arm fitted with marine grade laminated hardwood pad. Will take outboard engines up to 10hp 2 stroke.
Low internet price of £79 £65 plus postage.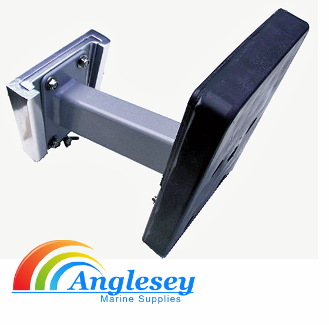 Seagull Bracket With Sliding Shoe
Similiar to the outboard bracket above but with anodised sliding shoe. This enables you to easily remove the bracket when not in use, or for security reasons. Also useful on sailing boats. Will take engines up to 10hp. A popular outboard bracket.
Low internet price of £119 £109.99 plus postage.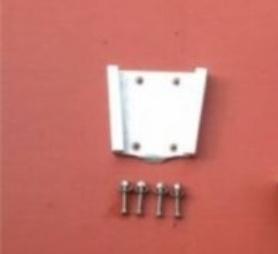 Spare Sliding Shoes For The Seagull Outboard Bracket
Sliding shoe for the seagull outboard bracket, ideal for if you have more than one boat and want to interchange the auxiliary outboard bracket between vessels. Comes complete with marine grade stainless steel screws to fit the bracket.
Currently only £59.99 plus postage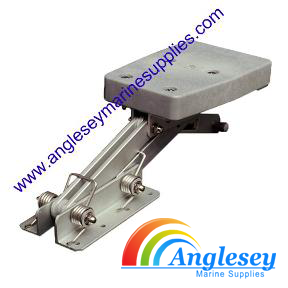 Stainless Steel Adjustable Outboard Bracket
Stainless steel spring loaded auxiliary boat engine outboard bracket with plastic engine pad. Will take up to 7hp 2 stroke. Uses 4 bolts to attach to transom. 2 position adjustment.
Only £89.99 £85.99 plus postage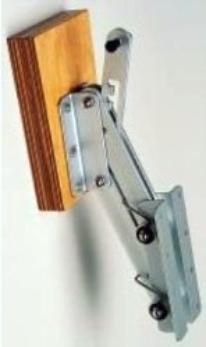 Aluminium Spring Loaded Auxiliary Outboard Mounting Bracket
Aluminium spring loaded auxiliary outboard motor engine outboard fixing bracket with marine grade plywood outboard engine fixing pad. Will take up to a 15hp outboard motor. Has 4 positions of adjustment.
Offer price of £105.99 £95.99 plus postage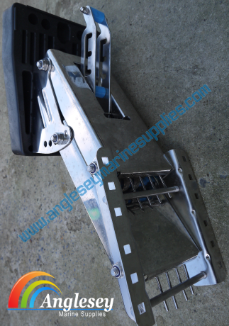 Heavy Duty Stainless Steel Auxiliary Outboard Mounting Bracket
Heavy duty 316 stainless steel outboard engine fixing bracket. Has 5 angles of adjustment for optimium positioning of outboard engine. 12 bolt holes for secure positioning. Rated to take up to 25hp outboard motor engine.
New Introductory Price of £139.99 £119.99 plus postage.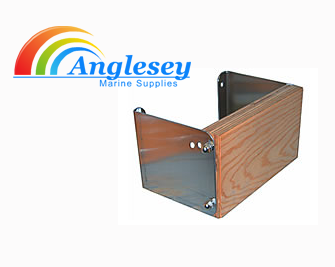 Stainless Steel Fixed Outboard Bracket
Stainless steel fixed outboard auxiliary engine outboard bracket with laminated wooden pad, will take outboard motors up to 12hp 2 stroke. Attach to the transom via 4 bolts.
Currently only £69.99 £65.99 plus postage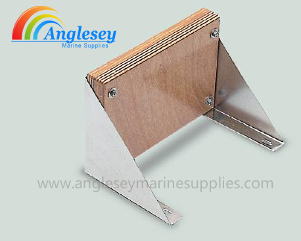 Stainless Steel Platform Auxiliary Engine Mounting Bracket
Stainless steel auxiliary outboard engine mounting bracket with marine grade wooden mounting pad. Designed to fit onto the stern platform and accomodate the auxiliary engine motor. Will take an outboard engine up to 9hp 2 stroke.
Introductory Price of £69.99 £65.99 plus postage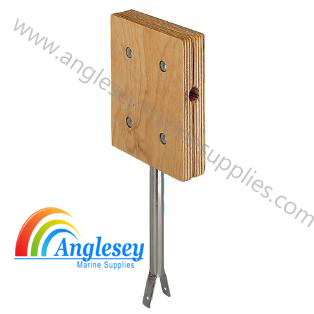 Pulpit Mounted Auxiliary Outboard Engine Mounting Bracket
Pulpit mounted auxiliary engine mounting bracket. Will fix onto 22mm-25mm tubing. Fixing pad manufactured from marine grade plywood and is supplied with a marine grade stainless steel tube base. Outboard mounting bracket pad size is 210mm x 260mm. Will take up to 8 hp 2 stroke outboard engine.
Very Low Price of £69.99 £59.99 plus postage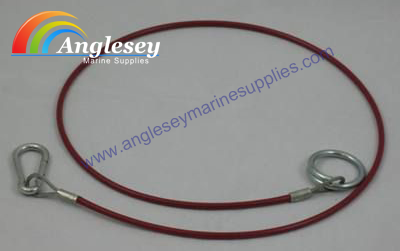 Outboard Auxiliary Engine Lanyard
Outboard motor safety lanyard. A useful and recommended item to attach to your outboard engine when using an engine bracket of any sort. An inexpensive item that will prevent loss of engine.
Available for only £12.99 plus postage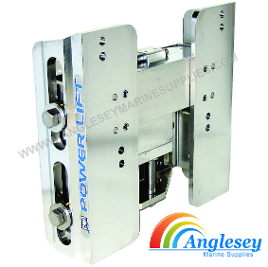 CMC Hydraulic Transom Jacks
CMC hydraulic transom jacks, high speed power lift to raise and lower all outboards up to 300hp. The hydraulic actuator is self contained with its own fluid reservoir. Manufactured from aluminium extrusion and marine grade 316 stainless steel fasteners. The transom outboard engine lift has a vertical lift of 5" and is set off the transom by 5.5"
Available for only £749.99 plus postage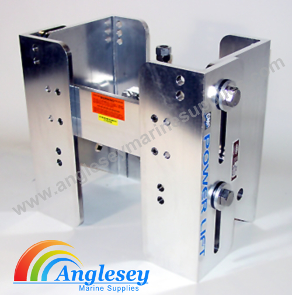 CMC Manual Boat Outboard Power Lift
CMC Manual transom mounted outboard engine power lift, manufactured from extruded aluminium alloy with stainless steel 316 marine grade fittings. Centrally located adjustment screw to adjust height even when engine is in place. Has a vertical lift of 5" and 5.5" set back from the transom. Rated to V8.
Available for only £349.99 plus postage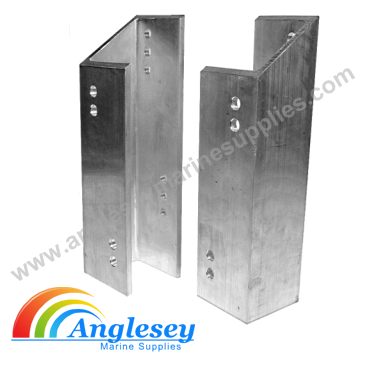 Transom Fix Plate Fit Longshaft Engine To Any Boat
The transom fix bracket is made from 3/8" thick alloy extrusion and provides an inexpensive solution to mount a long shaft outboard engine to a short transom. Also can be used as a fixed jack plate for boat engines up to 150hp. Allows 5 1/2" of lift and 4" of stand off from the boat transom.
Available for only £235.99 plus postage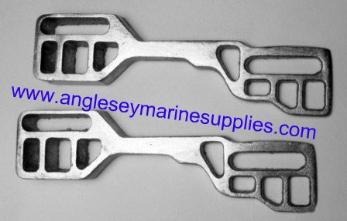 Cast Aluminium Boat Transom Wedges
Cast aluminium boat transom wedges. Will add an extra 5 percent of tuck to the transom angle. Will fit all standard four bolt patterned outboard engine.
Offer Price of only £55.99 £52.99 plus postage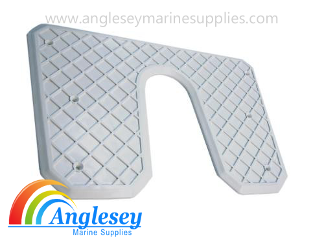 Outboard Engine Transom Pad
Small outboard engine transom pad, manufactured from non slip plastic. Prevents outboard engine toggle clamps from damaging the boat. 255mm long and 86mm wide.
Available for only £4.99 plus postage